Private Practitioner Certificate Course
Feb 26, 2021
2021-08-18 10:10
Private Practitioner Certificate Course
Private Practitioner Certificate Course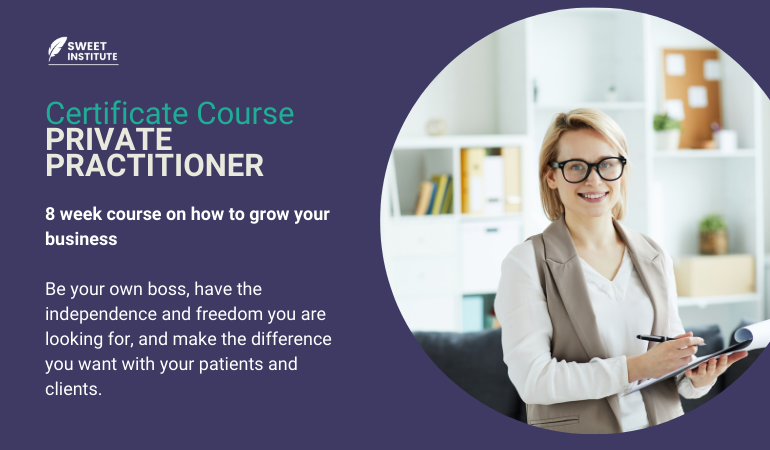 | | |
| --- | --- |
| Start Date | Currently running and closed for registration. Stay tuned for the next launch! |
| Duration | 8 weeks (Every Friday 12pm). Lessons will be recorded for self study if missed. |
| CEU Eligibility | No CEUs |
| Location | Online |
| Facilitators | Mardoche Sidor, MD and Karen Dubin-McKnight, PhD, LCSW |
| Registration Fee | One Time Payment of $799 or FREE as part of your annual Full Access Membership |
COURSE INTRODUCTION
If you believe there is indeed no better time than now to open up or re-evaluate your private practice, then this is the Certificate Course for you.
Please join us, learn about and get the tools you need to open up or fine-tune your Private Practice.
Be your own boss, have the independence and freedom you are looking for, and make the difference you want with your patients and clients.
At the end of this Certificate Course, you will be able to help your patients and clients understand why:
Learn as an ongoing process how to build or refine your private practice.
Have a deeper understanding of what is needed to achieve your private practice goals.
Gain the tools necessary to hone, fine-tune, and manage obstacles that may come up along the way.
Who this course is for
This Course is intended only for clinicians who are ready to start private practice or re-fine their private practice.
Mental Health Professionals: psychologists, psychiatrists, psychoanalysts, psychotherapists, somatic therapists, hypnotherapists, social workers, counselors, marriage and family therapists, expressive arts therapists, addiction counselors, guidance counselors etc.
About CE credits
This course is not eligible for CEU credits.
Frequently Asked Questions
What are your reimbursement policies?
Anyone who registered for this Course through any payment plans, and who wishes to withdraw, for whatever reason, is entitled to a reimbursement, with no questions asked other than for improvement purposes. The reimbursement will be minus the price of each single class attended by the date of wish to withdraw.
Is this Certificate Course included in the SWEET Membership?
Yes, this Certificate Course is offered as part of the SWEET Full Access Membership.
Can I start this Course even after it has already started?
If you register after this Course has already started, you must agree to watch all the self-study (pre-recorded) classes before you attend your first live class. If you're interested in registering after the launch date, please 
contact us
.
What others are saying about this Certificate Course
"Karen is in this experience with me, which motivates me all the more to continue to work towards my goal. For the first time I feel that I can make progress on my goal because of the insights gained in the webinar, as well as the support of Karen and my colleagues."

– Vilma, LCSW-R

"SWEET Institute presenters continue to hit it out of the park with their trainings! Thank you again for your wonderful, thoughtful, and intelligent presentations."

– Irma, LCSW

"SWEET is a wonderful learning Institute with caring and loving staff whose goal is to provide information in a supportive way, not as to make one feel inadequate, but to feel empowered and motivated to learn more."


– Caroline, LCSW-R
Click to see curriculum – Private Practitioner Certificate Course