Authentic Happiness Certificate Course
Feb 13, 2021
2021-08-27 10:48
Authentic Happiness Certificate Course
Authentic Happiness Certificate Course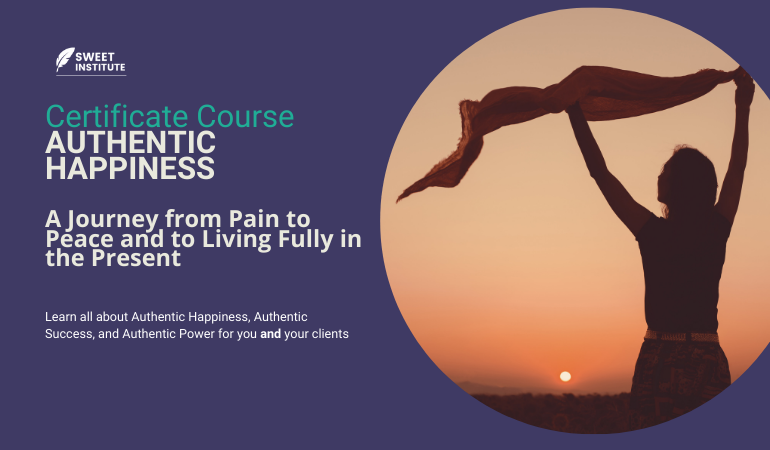 Start Date
This course is a pre-recorded self study.
Duration
12 weeks
CEU Eligibility
This course is not eligible for CEUs
Location
Online
Facilitators
Mardoche Sidor, MD and Karen Dubin-McKnight, PhD, LCSW
Registration Fee
One Time Payment of $799 or 3x Installments of $299 or FREE for SWEET Elite Members*
(*conditions apply)
COURSE INTRODUCTION
Join us for a 12-Week Certificate Course on how to help your patients and clients access their power by:
Developing a different relationship with their thoughts, and emotions
Listening to their body's messages
Embracing the now for authentic happiness and peace
Some of the outcomes will then include:
Knowing who they really are
Getting rid of their current limiting beliefs
Living a life of freedom, authentic happiness, and authentic success
At the end of this Certificate Course, you will be able to help your patients and clients:
Develop a healthier relationship with their mind, emotions, and body.
Understand the meaning of authentic happiness and authentic success, and how to obtain them.
Understand the difference between psychological time and chronological time.
Develop healthier and conscious relationships that further promote their growth.
Move from a Suffering State of Awareness to an Empowering State of Awareness.
Who this course is for
This is an intensive program designed for mental health professionals and personal coaches who want to help their clients find happiness and success in their professional or personal lives.
Mental Health Professionals: psychologists, psychiatrists, psychoanalysts, psychotherapists, somatic therapists, hypnotherapists, social workers, counselors, marriage and family therapists, expressive arts therapists, addiction counselors, guidance counselors etc.
About CE credits
This course is not eligible for CE credits.
Courses can also be purchased individually, click one of thee below for more information:
Frequently Asked Questions
Does this Course offer CEUs?
No this course does not offer CEUs.
What are your reimbursement policies?
Anyone who registered for this Course through any payment plans, and who wishes to withdraw, for whatever reason, is entitled to a reimbursement, with no questions asked other than for improvement purposes. The reimbursement will be minus the price of each single class attended by the date of wish to withdraw.
Is this Certificate Course included in the SWEET Membership?
Yes, this Certificate Course is offered as part of the SWEET Elite Membership.
What others are saying about our Certificate Courses
"I appreciate the use of questioning and how it deepens the learning. The humor and lightness that Karen displayed were welcome, in addition to the organized and in-depth presentation. I appreciate SWEET's teaching methods and welcoming attitude."

RUTH, LCSW
"I am so humbled to be a part of SWEET. I have learned so much and Karen and Mardoche are brilliant and incredibly kind human beings. It is clear that they have a passion for teaching clinicians how to help their patients and clients end their suffering. "

MICHELLE, LCSW-R
"Karen is the most warm and wonderful facilitator. She is so natural, informational, sharing, and engaging. I gleaned so much for this course that I can implement with my clients. I appreciate the supportive feeling and the value of collective learning."

ELIZABETH, LCSW