Neurolinguistic Programming CEU Certificate Course
Feb 13, 2021
2021-11-02 15:57
Neurolinguistic Programming CEU Certificate Course
Neurolinguistic Programming CEU Certificate Course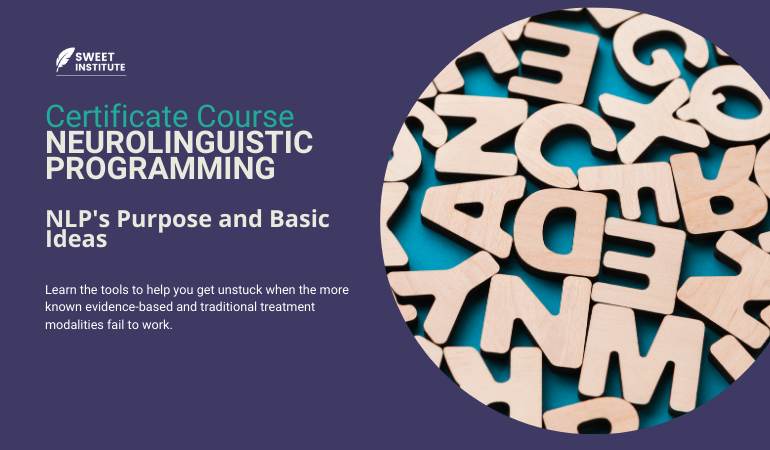 Start Date
Wednesday, August 18, 2021
Duration
12 weeks. Lessons will be recorded for self-study if missed.
CEU Eligibility
This first 11 sessions of this course are eligible for CEUs. The last session is not eligible for CEUs.
Location
Online
Facilitators
Mardoche Sidor, MD and Karen Dubin-McKnight, PhD, LCSW
Registration Fee
One Time Payment of $799 or 3x Installments of $299 or FREE for SWEET Elite Members*
(*conditions apply)
COURSE INTRODUCTION
The Mother of Family Therapy, Virginia Satir; the Father of Gestalt Therapy, Fritz Perls; and the prominent psychiatrist, Milton Erikson, were studied to determine why they were the best in their respective fields.
Common patterns in both language and thought were found, and this was the start of an organized body of knowledge that has been used by millions of clinicians throughout the world as adjunctive treatment. In terms of its adjunctive psychotherapeutic use, NLP has been validated and recognized by the United Kingdom Council for Psychotherapy.
Through this 12-week course, will learn adjunctive tools to help you get unstuck when the more known evidence-based and traditional treatment modalities fail to work.
At the end of this Certificate Course, you will:
Better use metaphors to better communicate with your patients and clients.
Better help your patients and clients uncover their limiting beliefs.
Help your patients and clients use the power of associations and anchoring as adjunct treatment for their trauma and anxiety.
Help your patients and clients finally understand why they are not broken and how they can empower themselves.
Learn adjunctive treatment to help your patients and clients learn how to better regulate their emotions, achieve their goals more efficiently, and become more resilient in life.
Who this course is for
This Certificate Course is intended only for clinicians who are motivated enough to learn these new skills that may become readily handy when least expected.
Mental Health Professionals: psychologists, psychiatrists, psychoanalysts, psychotherapists, somatic therapists, hypnotherapists, social workers, counselors, marriage and family therapists, expressive arts therapists, addiction counselors, guidance counselors etc.
About CE credits
This Certificate Course is eligible for 22 CEUs for social workers through the NASW National CE Approval Program in 46 states
This Certificate Course is also eligible for 22 CEUs for Licensed Social Workers, Licensed Mental Health Counselors, Credentialed Alcoholism and Substance Abuse Counselors (CASACs), and Psychologists in New York State
The first 11 sessions are eligible for CEUs according to the above specifications. The last session is not eligible for CEUs.
What others are saying about our Certificate Courses
"I appreciate the use of questioning and how it deepens the learning. The humor and lightness that Karen displayed were welcome, in addition to the organized and in-depth presentation. I appreciate SWEET's teaching methods and welcoming attitude."

RUTH, LCSW
"I am so humbled to be a part of SWEET. I have learned so much and Karen and Mardoche are brilliant and incredibly kind human beings. It is clear that they have a passion for teaching clinicians how to help their patients and clients end their suffering. "

MICHELLE, LCSW-R
"Karen is the most warm and wonderful facilitator. She is so natural, informational, sharing, and engaging. I gleaned so much for this course that I can implement with my clients. I appreciate the supportive feeling and the value of collective learning."

ELIZABETH, LCSW