Psychotherapy Certificate Course
Feb 13, 2021
2021-03-03 9:37
Psychotherapy Certificate Course
Psychotherapy Certificate Course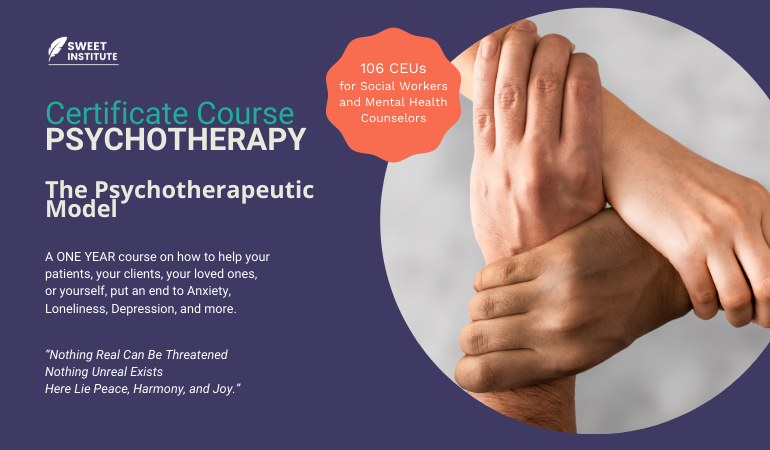 Start Date
Currently running and closed for registration. Stay tuned for the next launch!
Duration
53 weeks (Every Tuesday 7pm). Lessons will be recorded for self study if missed.

This course includes twice monthly Practice Group sessions (90 minutes each). This is like group supervision on the implementation of the course material, review of key points, and any additional insight needed in the application of the model in clinical care or in coaching.

CEU Eligibility
106 CEUs for social workers and counselors with NASW (except Michigan, New Jersey, and West Virginia) and New York State Office of Professions
Location
Online
Facilitators
Mardoche Sidor, MD and Karen Dubin-McKnight, PhD, LCSW
Registration Fee
One Time Payment of $1999 or 3x Installments of $799
COURSE INTRODUCTION
Nearly half of American families have at least one person receiving some form of mental health treatment, of which psychotherapy is the most common one.
The Psychotherapeutic Model taught in this course makes up for all shortcomings found in our usual evidence-based practices, including CBT, DBT, or in psychoanalysis and its derivatives, while addressing the root of suffering and the formula to end it and start anew. It is the most comprehensive form of all psychotherapies: it not only encompasses what is already present in all other evidence-based practices, but it also addresses the shortcomings found in these practices by addressing all suffering at its root – the mind – by using the immutable facts that have been proven by Neuroscience, the Sciences of Psychodynamics, and the premises of CBT. This Psychotherapeutic Model is therefore based on the scientifically proven facts about human suffering, and related causes and effects.
Everyone in need of help, regardless of the form of their distress, has a veil that is blocking reality, leading them to attack themselves, thinking that they are attacking others. The mere fact that they are suffering could be sufficient proof that they are attacking themselves but the veil itself that leads them to attack others will not let them understand that their suffering comes from their attack against themselves. This Psychotherapeutic Model helps restore individuals' awareness and the ability to make their own decisions because they have learned to reverse their thinking, and they have understood that all that had been going on in their life was all a matter of projection, which they have now learned to stop, thanks to their work with you, using this Psychotherapeutic Model.
For Psychotherapy to lead to real and sustainable transformation of the individual, it is necessary that one begins to question one's reality. Though most other forms of psychotherapies help individuals begin to open their mind, a shift in perception is required for individuals to get to know reality and all the benefits that come along with it. The Course provides the kind of shift necessary for this level of transformation.
When implemented well, this model leads to a full transformation of the individual at all levels and in a sustainable way. For example, 1. Individuals will learn to reconsider and correctly evaluate causes; 2. Individuals will learn who they really are and how to be self-realized, self-actualized, or fulfilled. This all becomes a natural process once their veil has been removed; 3. Individuals fully understand what forgiveness really is and that it is natural for them to forgive and to live in harmony with everyone and everything in the world.
Join the SWEET Institute for a transformative Certificate Course that explores the cause of suffering, how individuals have been erroneously dealing with it, and how each individual can end it and start living a free, joyful, and peaceful life.
At the end of this Certificate Course, you will be able to help your patients and clients understand why:
And how our brain creates the illusion of meaning from nothingness.
Our thoughts do not have any meaning.
We don't understand anything.
You will also be able to help them understand:
There is another way.
How to get to that other way.
How the other way leads to harmony, authentic happiness, authentic success, and how to reach it.
Who this course is for
This is an intensive graduate level certification program designed to enhance the skills and effectiveness of professionals already working with clients in the field of mental health, behavioral health, or coaching. Professionals currently in practice will be able to use the skills learned in this program immediately in their work.
Therapists
Coaches
Anyone driven to help end suffering and help others reach aliveness and fulfillment
Anyone who would like to use the Model for themselves or their loved ones
Mental Health Professionals: psychologists, psychiatrists, psychoanalysts, psychotherapists, somatic therapists, hypnotherapists, social workers, counselors, marriage and family therapists, expressive arts therapists, addiction counselors, guidance counselors etc.
About CE credits
This course is eligible for 104 CE credits under NASW and NYS. It is the student's responsibility to check with their state licensing board as to whether or not they accept this program.
Frequently Asked Questions
Do I need to attend all 53 weeks in order to get my certificate?
Yes. If you missed a week, you must do the self-study (recorded) class prior to attending the subsequent week. Otherwise, you risk accumulating gaps, which may, in turn, lead to an inability to use the model adequately to help those who come to you with their suffering.
Can I start this Course even after it has already started?
If you register after this Course has already started, you must agree to watch all the self-study (recorded) classes before you attend your first live class. Otherwise, you will likely be unable to understand the model, and you will therefore not be able to use it to properly help others. If you're interested in registering after the launch date, please
contact us
.
Are there any other requirements to getting a certificate besides completing each and every of the 53 classes?
Yes. (1) After each of the 53 classes, you must take and pass a post-test and complete an evaluation. You must score at least 80% to obtain a CEU certificate for that particular class. (2) At the end of the course, we will verify if you received all 53 certificates. (3) Once you have all 53 certificates, you must present a paper that contains at least the following points:
A. Your summary of the Course;
B. The main points;
C. Your personal take;
D. How it differs from all other known forms of psychotherapies;
E. How it is meant to be transformative and mind-changing for everyone who will seek your help;
F. What will it take for its transformative elements to remain intact;
G. How you plan to ensure fidelity as you practice it.
There is no exception to this requirement. No one will be able to receive a certificate of completion for this Course without having met the above requirements.
Does this Course offer CEUs?
CEUs are offered through this Course for all social workers throughout the United States, except the following three states (New Jersey, Michigan, and West Virginia). This Course also offers CEUs for all social workers and Mental Health Counselors in the state of New York.
What are your reimbursement policies?
Anyone who registered for this Course through any payment plans, and who wishes to withdraw, for whatever reason, is entitled to a reimbursement, with no questions asked other than for improvement purposes. The reimbursement will be minus the price of each single class attended by the date of wish to withdraw.
Is this Certificate Course included in the SWEET Membership?
No, this Certificate Course is not offered as part of the SWEET Full Access Membership.
What is the best way to apply this Psychotherapeutic Model in my practice?
This model is designed to always work, but it needs to be implemented adequately. Adequate implementation entails ensuring that clients practice their daily insights and apply them on a daily basis. For that to take place, you will be making use of accountability, which requires each and every one of your clients to have an accountability partner.
What is the best way to ensure that each and every one of my clients has an accountability partner?
One of the best ways to do so is to run a weekly group with all your clients with whom you will be applying this model. In this group, you will be pairing up your clients and each pair will be responsible to help hold each other accountable. Each pair will also have a scheduled time to speak on a weekly basis for at least twenty minutes.
Does that mean I will need to know how to run groups?
At the end of this one-year Psychotherapy Certificate Course, you will find yourself skilled in not only running your groups, but will also discover many other talents in you that you may currently not be aware of.
Is this Certificate Course to help clinicians, or for clinicians to better help their clients?
This Psychotherapeutic Model is likely to be novel for most clinicians and coaches and almost all clients. For clients to best benefit from it, their clinicians ought to learn it. As clinicians and coaches learn the model in preparation to help their clients, they too will have gone through a process of transformation.
What if, as a clinician or coach, I just want to learn the model to help my clients, and I do not wish to improve my own life?
What any clinicians or coaches wish to do with their own life is not a requirement to learn the model to help their clients. What will happen is that as one learns the model to help their clients, one will likely find it useful for one's own life, as well.
What others are saying about our Certificate Courses
"Practical and useful information that I can immediately apply to my practice. Enjoyed the training via Zoom. Very well done! Thank you!"

Roxanna, LCSW
"Concrete steps to begin changing behavior, i.e. identify the effects of the behavior to one's life. The inclusion of Biology and Psychology as techniques to manage behavior. The Law of Little Things to help a client break down goals and be encouraged in her accomplishment."

Sharon, LSCSW
"Great energy from presenters, quick efficient delivery, many solid tangible takeaways."

Deena, LCSW
Click to see curriculum – Psychotherapy Certificate Course