BEHAVIOR MODIFICATION CERTIFICATE COURSE (Self-Study)
Jun 26, 2021
2021-12-01 16:25
BEHAVIOR MODIFICATION CERTIFICATE COURSE (Self-Study)
BEHAVIOR MODIFICATION CERTIFICATE COURSE (Self-Study)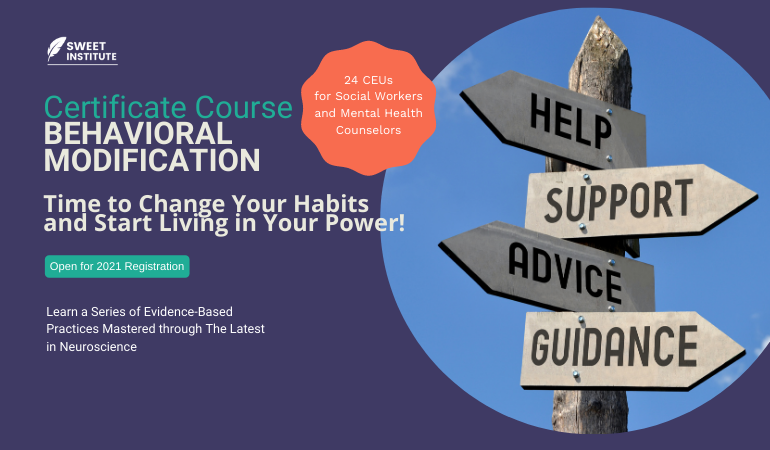 KEY INFORMATION:
This entire Certificate Course is eligible for a total of 16 CEUs for Licensed Social Workers, Licensed Mental Health Counselors, Credentialed Alcoholism and Substance Abuse Counselors (CASACs), and Psychologists in New York State.
For more information about CEU approval, please click here.
Format: Self-Study Online Seminar
Introduction
A Journey from Suffering to Empowerment and to Getting Things Done!

A Self-Study Series of Evidence-Based Practices Mastered Through
The Latest in Neuroscience
An 8-Session Self-Study Behavior Modification Certificate Course with 16 CEUs
On how to help your patients, your clients, better manage
Their Behaviors, Thoughts, and Emotions * Do What They Say They're Going To Do * Say Goodbye to Procrastination, and * Say Hello to Getting More Things Done Faster, Better, and While Enjoying More of Their Life
Some of the outcomes will then include:
Healthier Self-Image, Self-Esteem, Self-Confidence, and
More Happiness, Success, and Fulfillment
"Human Behaviour is Incredibly Pliable, Plastic."
– Philip Zimbardo (The Stanford Prison Experiment)
Join the SWEET Institute for a Transformative and Experiential Learning Certificate Course that allows you to master the fundamentals, methodologies, and techniques of behavior modification so you help your patients and clients.
At the end of this Self-Study Certificate Course, you will be able to help your patients and clients:
Understand the three main ways of modifying a behavior, why their own methods have been failing, and what will truly make a difference for them.
Identify their main barriers, transform them into assets, and make their assets work even better for them.
Identify the fastest and easiest ways to make changes in their behaviors, emotions, thoughts, and belief systems.
Shift their relationships, adjust their habits, results, and reshape their identity.
Move from a Suffering State of Awareness to an Empowering State of Awareness.

Session Topics:
Session 1: Behavioral Modification: Behavioral Plans that Work
Session 2: How to Make Unhelpful Habits Impossible
Session 3: More Results with Less Effort in Behavioral Change
Session 4: Rules to Go By in Behavioral Modification
Session 5: Beliefs and Pitfalls to Avoid
Session 6: The How's of the Do's and Don'ts
Session 7: Practical Steps in Behavioral Modification
Session 8: The Secrets of Behavioral Changes
Here's What Attendees Have to Say about SWEET Webinars:
"The webinars are thorough and well-paced. The interactive design ensures engagement during the webinar for a deeper learning experience. Even though participants can't see each other, I feel a sense of community the way Mardoche Sidor uses the comments in the chat box and responds and reflects them back to us." – Jessica, LMSW
"Karen, I took your class on burnout the other day. I have to say, I was surprised when the feelings were so strong. Through your process, I let go of the feelings of frustration and the next day my Director complimented me on my energy! Thanks." – Caroline, LCSW-R [Email Communication]
"Mardoche's knowledge is imparted with wisdom and care. The warm, caring environment is conducive to learning. The Socratic Method of learning is ideal! I've never retained so much information without actively studying." – Marie, LCSW
"Informative, relevant, excellent learning environment; facilitator was knowledgeable and respectful. Easily accessible. I registered for the webinar 15 minutes before it started and had no difficulty getting onto the platform." – Jamie, LCSW
"It's always good to further hone skills to make work more accurate and efficient. Karen is a very effective facilitator; she has command of the knowledge and material, is intuitive to questions." – Sonia, LCSW