A 3-Part Conversation on Undoing Racism
Feb 28, 2021
2021-08-17 5:58
A 3-Part Conversation on Undoing Racism
A 3-Part Conversation on Undoing Racism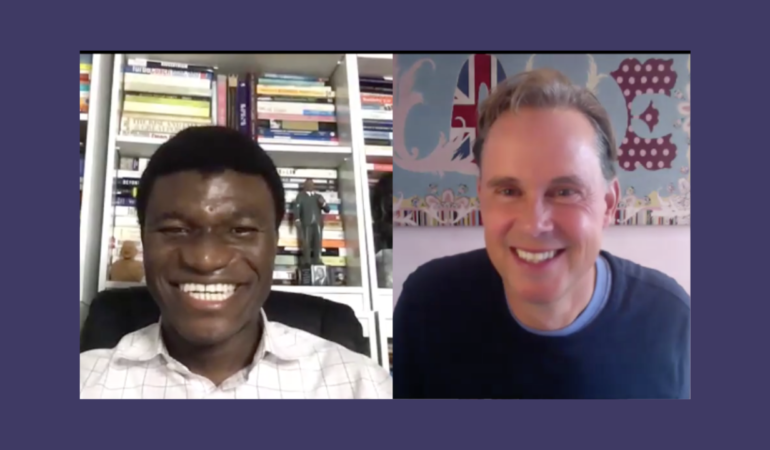 Course Introduction
IMPORTANT INFORMATION:

This course is not eligible for CEUs

Format: Self Study Online Course 
SWEET Institute With Robert Holden, Ph.D. Present
UNDOING RACISM
A Journey from Fear to Freedom. A Heart to Heart Conversation with Mardoche Sidor & Robert Holden
On how to play your part in a generation that stands for
Ending Racism * Social Justice * and building the Beloved Community on Earth
Join Mardoche and Robert for a conversational journey in three parts that explores how we can undo the terrible effects of racism on our mental health, our social well-being, and our spiritual connection with each other. Together, Mardoche and Robert will offer practical ways in which neuroscience, psychology, sociology, and spirituality can help individuals and communities to heal racism, overcome prejudice, and end discrimination.
Robert Holden, Ph.D., is Director of Success Intelligence and The Happiness Project. His innovative work on psychology and spirituality has been featured on Oprah, Good Morning America, a PBS special Shift Happens! and in two major BBC-TV documentaries, The Happiness Formula and How to Be Happy. Robert has presented two TEDx talks on Destination Addiction and The Tea Meditation. He is a New York Times bestselling author of 10 books, including Happiness NOW!, Authentic Success (formerly titled Success Intelligence), Shift Happens!, Loveability, Holy Shift! and Life Loves You (co-written with Louise Hay). He is an official contributor to Oprah.com and for the Chicken Soup for the Soul series. For 10 years, he hosted a weekly show on Hay House Radio called Shift Happens! www.robertholden.com
Part 1: The Great Lie 

"Racism is total estrangement. It separates not only bodies, but minds and spirits.
Inevitably it descends to inflicting spiritual and physical homicide
upon the out-group."
– MLK
In Part 1, Mardoche and Robert explore the wound of Racism. In this class, we will consider these questions: What exactly is racism? What is the root cause of racism? What are the effects of racism? How can racism be healed?
In Part 1, we will cover:
The Original Cause of Racism
The Great Lie of Racism
How the Great Lie has Spread
Three Main Types of Racism
A World without Racism
Part 2: Under the Skin 
"If I had an hour to solve a problem,
I'd spend 55 minutes thinking about the problem
and five minutes thinking about solutions."
– Albert Einstein
In Part 2: Mardoche and Robert will look at how the brain works through associations; how a type of belief is associated with additional ones; and how the best way to fully solve a problem is to therefore understand it, including using the process of associations.
In Part 2, we will cover:
The Human Family
Associated Beliefs of Racism
Undoing your Unconscious Bias
The Implicit Bias Test
The Roles of Apology and Forgiveness
Part 3: Imagine No Racism
"Our goal is to create a beloved community, and this will require
a qualitative change in our souls as well as a
quantitative change in our lives."
– MLK
In Part 3: Mardoche and Robert explore life beyond Racism. For this, the real problem ought to be fully understood and therefore addressed. Mardoche and Robert will help us see how it all started with separation, and how the solution is therefore Forgiveness and Love, but not as most understand them to be.
In Part 3, we will cover:
The Process of Separation
The Real Definition of Forgiveness and Love
Our Shared Purpose
The Solution to It All
Shaping a World Without Racism
What others have said about our courses:
"I appreciate the use of questioning and how it deepens the learning. The humor and lightness that Karen displayed were welcome, in addition to the organized and in-depth presentation. I appreciate SWEET's teaching methods and welcoming attitude."
– Ruth, LCSW
"I thought it would be too long, but it went quickly. Karen's style of relating things kept my interest. Very informative – good examples and techniques to use."
– Diane, LCSW-R
"Karen has a great way of drawing everyone into the discussion vs. just presenting info."

– Suzanne, LSW
"I am so humbled to be a part of SWEET. I have learned so much and Karen and Mardoche are brilliant and incredibly kind human beings. It is clear that they have a passion for teaching clinicians how to help their patients and clients end their suffering. "
– Michelle, LCSW-R
"Karen is the most warm and wonderful facilitator. She is so natural, informational, sharing, and engaging. I gleaned so much for this course that I can implement with my clients. I appreciate the supportive feeling and the value of collective learning."
– Elizabeth, LCSW