The FEAR Steps for Fear:
Mar 15, 2021
2021-03-15 0:51
The FEAR Steps for Fear: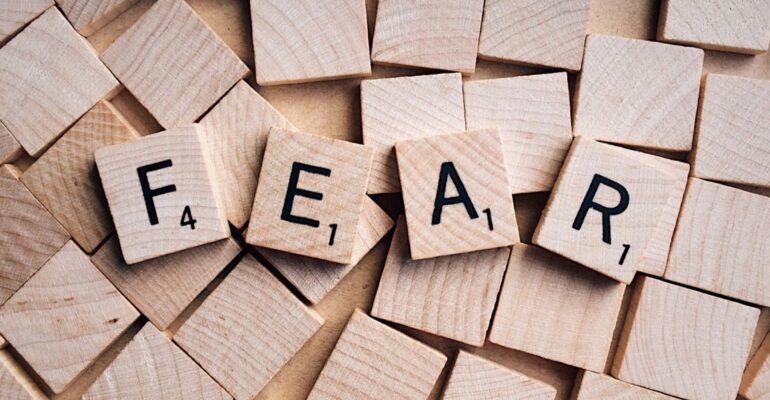 The FEAR Steps for Fear:
You have heard so many things about fear. Many of them are contradictory [1]. And, none of the ways we have been taught to deal with fear work. We know. We've been there both as human beings clinicians. Like you, we got tired of working with our patients on fear, without any real lasting progress. But, we used our frustration to find out what really works, and we are excited to give you a taste of it. Here are the 4 FEAR Steps to help your patients out of their revolving cycle of FEAR:
Forgive
Engage
Accept
Recover
Fear starts as a thought. It is a thought, just like any other thought. It is neutral until it gets activated. There are many ways we consciously or unconsciously activate that thought. One way for us to stop doing it is to Forgive. How does that work exactly?
Etymologically, the word, Forgive means to give, to grant, to allow, to give up, to give in, and to give and receive [2]. When we forgive a thought, we allow it to be. We give it space. We know it's just a thought, and, therefore, we give up the need to do anything about it. We know that all thoughts are transitory; the only way a thought of fear would linger would be because we focus on it, dislike it, or try to do whatever is possible to make it go away. When we forgive we do not do that, and that's the first step required to develop a healthy relationship with fear.
As we forgive, it becomes clear that there is a difference between observing the fear thought and the thought of fear itself. We realize that there is a distinction, that we are not our thought, that we are not our fear, and this distinction is the most powerful one of all. For this is when we get to choose. We get to choose to ENGAGE.
Etymologically, the word, engage means "to involve someone or something else."[3] And we get to do so using one of the following:
Thought Refocusing
Cognitive Restructuring [4]
Thought Substitution
Thought Redirecting
Any of the above four methods are ways for us to engage. If you are familiar with these methods, you will recall that you are not engaging the fear thought. Rather, you are either: 1. Choosing a different thought; 2. Working with the cognitive error related to the fear thought; 3. Engage in Thought Substitution Practice; or 4. Shift to Consciousness-Based-Thinking. While which one we choose is dependent upon our level of psychological mindedness; one thing for sure is that the more we use any of the above four methods, the more we will find ourselves developing a healthier relationship with FEAR. This, itself, leads us to the 3rd step of ACCEPT.
Etymologically, the word "accept," means "to take something to oneself, "to receive without effort."[5] Accepting fear does not mean "resigning." Nor does it mean, "hopeless" or "helpless." It does not mean "being disempowered." On the contrary, accepting fear means entails:
Knowing it is a thought – a neutral one, and only we get to activate it or not
Knowing we are not our thought, and we can notice our thought, without having to do anything about it
Knowing that the thought of fear is making its transitory way, and there are several ways we can engage
Knowing that as we engage, we can just notice the thought of fear in the background, while we go on about our day.
And this is ACCEPTANCE. As we have mastered this step of acceptance, we then enter the step known as RECOVER.
Etymologically, to recover means "to regain Consciousness," or "to return to health."[6] First, we allow the thought of fear (Forgive). Second, we engage away from the fear of thought, without confronting or resisting (Engage). Third, we receive the thought of fear without any effort whatsoever (Accept). And then fourth, we regain Consciousness, or awareness; we become aware that fear started with a thought, that we need not be afraid of our thoughts, and we can do so by forgiving, engaging, accepting, leading us to recover, and recover each time, guaranteed.
The best part is that each time we experience fear, we can use it as an opportunity to practice the FEAR steps. Relatedly, each time we practice, we get better and better at these steps. Lastly, as we get better at these steps, we not only become less and less afraid of our thoughts of fear, but also, these thoughts of fear become less and less present, and when they are present, they are just in the background, while we continue to go about our day.
Isn't this a piece of science worth spreading?
The SWEET Institute is committed to make the latest in science available to all clinicians so they can help their patients, using what's been shown to really work. Enough with all these techniques that are rooted in a misunderstanding of the mechanism of symptoms. It is time for clinicians and patients to get the best possible tools to live a fulfilling, authentically happy, and authentically successful life.
Do you not want to be part of this vision?
We look forward to welcoming you.
Until then,
Karen and Mardoche
---
[1] Adolphs, Ralph. "The biology of fear." Current biology : CB vol. 23,2 (2013): R79-93. doi:10.1016/j.cub.2012.11.055
[2] "Forgive (v.)." Index, www.etymonline.com/word/forgive.
[3] "Engage (v.)." Index, www.etymonline.com/word/engage.
[4] Boyes, Alice. "Cognitive Restructuring." Psychology Today, Sussex Publishers, 21 Jan. 2013, www.psychologytoday.com/us/blog/in-practice/201301/cognitive-restructuring.
[5] "Accept (v.)." Index, www.etymonline.com/word/accept#etymonline_v_109.
[6] "Recover (v.)." Index, www.etymonline.com/word/recover.